A few years ago I was inspired by Pinterest to make colcannon. It was really good especially with the little changes I made. Click
here
to go to that 2012 post.
I have new earrings to wear this year that I purchased from Melanie's Etsy shop
FemmeDeBloom
.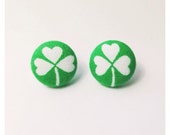 SmallFryeMama lent me her green nail polish which made it so I could sport the green and gold without spending any money!
a cute way to gift some
Here are a few new things I found for Saint Patrick's Day this year.
Shamrock Chips
Low Fat Shamrock Parfait
Shamrock Drops
I have no Irish in me but the Chosen One does so of course the boys do and heck, I always love a reason to celebrate. I'll share Monday with what I actually end up doing. For now, have a glorious weekend from me and this sweetie....